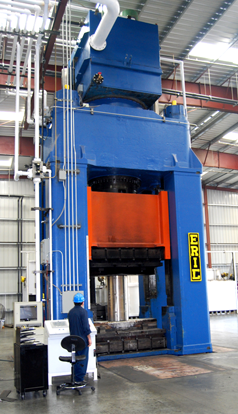 The best lead times, quality assurance and competitive pricing in the Aerospace, Defense, Industrial, Electronic, Semiconductor and Nuclear industries.
American Handforge specializes in manufacturing quality Aluminum, Titanium & Stainless Steel open die forgings with the best lead times, unsurpassed quality assurance, and competitive prices in the Aerospace, Defense, Industrial, Electronic, Semiconductor and Nuclear industries.
The management of American Handforge (AHF) has over 100 years of accumulative experience in the Aluminum hand forging industry. We have developed a team of experienced sales staff, in-house Metallurgists and Engineers to assist you in every way. American Handforge holds many approvals such as AS9100:2009, Rev. C, ISO 9001:2008, NADCAP Accreditation, EADS, and proud to be on the following customer approval lists for Boeing, Bombardier, Gulfstream, and other government sub-contractors.
American Handforge draws upon the skill, judgment and many years of experience of an outstanding staff of engineers and technicians. We can assure optimum quality.
American Handforge maintains the highest standards in the forging industry. A hand forging is a carefully engineered, custom made product in which a specified quality is guaranteed. This can be achieved in only one way - by building quality, from the beginning, into the forging itself.
What is a Hand Forging?
A hand forging is also referred to as an open die forging. The formal definition as defined by the Aluminum Association Standards and Data is: "A forging worked between flat or simply shaped dies by repeated strokes or blows and manipulation of the piece." In other words, forging is the process of manipulating stock between open dies, while shaping it in various intervals which are usually conducted by compression using a hydraulic press.