Forging Services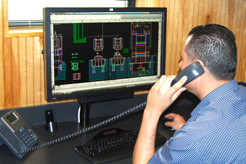 One source for all your forging requirements.
American Handforge is a family owned company, specializing in manufacturing quality aluminum, titanium and stainless steel open die forgings with the best lead times, unsurpassed quality assurance, and competitive prices in multiple markets including the aerospace, defense, industrial, electronic, semiconductor and nuclear industries.
American Handforge maintains the highest standards in the forging industry. A hand-forged biller, block, ring or biscuit is a carefully engineered, custom made product in which a specified quality is guaranteed. This can be achieved in only one way – by forging quality, from the beginning, into the forging process itself.
One of the competitive advantages AHF has is the delivery of product to their customers in a four to six week time frame. This is accomplished by maintaining the right inventory which is based on historical needs and forecasting from our sales department. The company also ensures a quick delivery by managing all of its testing and thermal processing in-house.
Save Time and Money
American strong. American made. American Handforge.